This brave teenager from Lebanon, Ohio always dreamed of being a filmmaker, so when he was diagnosed with osteosarcoma, he took the opportunity to document his experience.
Today Brandon Morgan, 19, released their 90-minute documentary, titled 30 weeks. The title is derived from the 30 weeks he spent battling cancer during the Covid-19 pandemic. He was only 17 at the time.
He is now cancer free after undergoing 18 rounds of chemotherapy, two ports and undergoing surgery to remove his tumor.
Here is his story, told in his own words:
Diagnosis of Brandon's osteosarcoma
During Brandon's freshman year of high school, he began experiencing "excruciating" pain in one of his knees. His doctor initially thought it was tendinitis, which is when a tendon is inflamed.
But the pain only got worse, so the doctors at Cincinnati Children's Hospital had to dip to figure out what was wrong. And what they discovered was that Brandon's knee pain was not tendinitis, but osteosarcoma.
"When we got a call from Cincinnati Children's Hospital saying they thought there was a tumor in there, we were completely shocked," Brandon said.
He started chemotherapy shortly after his diagnosis.
"I went through machine after machine, got scanned to establish baselines once I started chemo," he said in the film, which is now live on YouTube. "The weight of the situation has not yet reached me. They also introduced me to my port. This is the device that would be surgically placed in my chest to deliver the chemo.
The chemotherapy caused the hair loss, which he admitted made him struggle with his appearance.
"It'll be dark, and I'll sit down, and I'll see my reflection outside on the glass, and I'll feel like I'm watching someone else," Brandon said in the film.
However, the real test of his mettle was having knee surgery to remove the osteosarcoma.
"That morning was the first time I was really scared for my life," he said in the documentary as hospital staff ushered him into the operating room. "I cried when I got back to the operating room. They put me to sleep with tears streaming down my cheeks because I knew when I woke up everything would change, and I prayed to God for the best.
And Brandon got his wish! His operation was a success.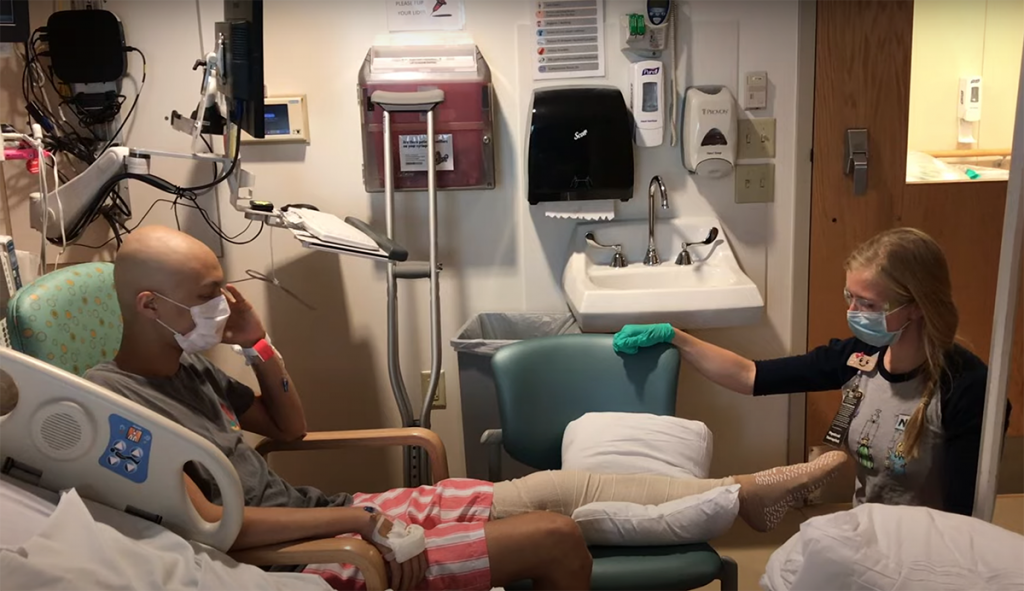 "Before I knew it, it was back to school," he said. "Honestly, I can't say I remember what it was like to be in school again and see everyone, probably because I wasn't in school so much."
"I was still in chemo four to five days a week, but I was able to do some things like, I don't know, be crowned reunion king."
Earlier this week, Brandon returned home from the University of Central Florida (where he's studying film, obviously), to take additional tests to check on his health.
"I got the results and they were all crystal clear, which was some of the best news ever," he told WLWTa television station in Cincinnati, Ohio.
What type of cancer is sarcoma?
Sarcomas are cancers that arise from the cells that hold the body together. They can occur in muscles, nerves, bones, fat, tendons, cartilage, or other forms of connective tissue.
Related video: Sarcoma survivor Kara Ladd finds solace in reiki, meditation and energy healing during her cancer treatment.
"There are hundreds of different types of sarcomas, which arise from different cell types," Dr. George Demetridirector of the Sarcoma and Bone Oncology Center at the Dana-Farber Cancer Institute and Harvard Medical School, previously told SurvivorNet.
The word sarcoma refers to a wide range of bone and soft tissue cancers. These are then broken down into more specific forms of the disease, including:
Ewing's sarcoma – Cancer that usually occurs in and around bones, often in the arms or legs, or pelvic bones. It most often occurs in children and young adults.
Kaposi's sarcoma — A rare type of cancer that causes damage to the skin, lymph nodes, organs and mucous membranes of the mouth, nose and throat. It usually affects people with weakened immune systems, such as those with HIV.
Epithelioid sarcoma – Soft tissue cancer that grows slowly. It is likely to start under the skin in areas such as the finger, hand, forearm, lower leg or foot.
Synovial sarcoma – Also known as malignant synovioma, this is cancer that can form in soft tissue such as muscle or ligaments, usually near joints or in areas such as the arm, leg or foot.
Osteogenic sarcoma – Also known as osteosarcoma, this cancer starts in the bone and is more common in young children.
Spindle cell sarcoma — A rare form of the disease that accounts for less than 2% of all cases of primary bone cancer. It is more common in adults over the age of 40 and often forms in the bones of the arms, legs and pelvis.
Angiosarcoma – This cancer appears in the lining of blood vessels.
Liposarcoma – This cancer develops from fat cells and often occurs in the torso, limbs or deep in the abdominal lining.
Chondrosarcoma – This cancer occurs in cartilage cells, mainly in adults over the age of 40.
Related: Bold, Bald, and Beautiful: Kara Ladd Met a New Version of Herself After Her Cancer Diagnosis
"Unfortunately, most sarcomas do not cause many of the symptoms that may be associated with other cancers," Dr. Dale Shepard, director of the Cleveland Clinic Taussig Cancer Institute's Phase I and Sarcoma Programs, previously told SurvivorNet. Shepard also explained that this often leads to large tumors upon diagnosis.
"Soft tissue sarcomas are usually painless," he added. "Bone sarcomas can be confused with orthopedic injuries. A growing mass the size of a golf ball or larger should be evaluated as a potential sarcoma. It is important that patients with symptoms do not dismiss them. »
Learn more about SurvivorNet's rigorous medical review process.