The Grammys embrace all of its Vegas-style glitz and glamour.
After a two-month postponement and relocation, the 64th annual Grammy Awards took place on Sunday at the MGM Grand Garden Arena. The ceremony welcomed comedian and host Trevor Noah for a second year, who avoided potential scandal after last week's Oscars.
"Please remember, guys, tonight is not just about winning. You are nominated. You may not win, but remember you have something that everyone doesn't have: money," Noah said. "I know you want the trophy, but the trophy won't help you pay for your house. matters in life.
Olivia Rodrigo was one of the performers who kicked off the event, fondly singing "driver's license" on a converted stage in the suburbs, where the young pop artist matched her white Mercedes-Benz with a dress ruffled white dress while butterflies delicately fluttered in the background. . J Balvin and Argentine singer Maria Becerra then took the stage, whose joint performance gently changed the tone with "Qué Más Pues?" Emotions and energy were lifted as the duo danced in front of a beaming blue and red screen, with Balvin scaling illuminated stairs while flanked by the dancers' tattooed sleeves.
The first presenter to take the Las Vegas stage was recent Oscar winner and Best Musical Grammy winner Questlove, who presented the first of four overall awards: Song of the Year. Silk Sonic, comprised of Bruno Mars and Anderson .Paak, beat out the competition to win Gramophone Gold for their track "Leave The Door Open." The win followed Silk Sonic's opening ceremony performance of "777" in matching dazzling white outfits with playing card suits running down the sleeves, a nod to the signature Las Vegas lifestyle. .
Stepping away from music creators, Ukrainian President Volodymyr Zelenskyy made a pre-recorded appearance urging audiences and creators not to shut up, contrasting the silence created by Russian bombings of Ukrainian cities and the reach musicians can have with their songs. After the speech, John Legend appeared on stage with "Free", singing alongside three Ukrainian artists, bandura player Siuzanna Iglidan, singer Mika Newton and poet Lyuba Yakimchuk.
After the political appearances, Lady Gaga performed two songs — "Love For Sale" and "Do I Love You" — without fellow singer Tony Bennett, who introduced her via video instead. After her tribute to the golden age of entertainment, alum Billy Porter once again enlivened the crowd with signature flair as the host of Best R&B Album, which musician Jazmine Sullivan won for her "Heaux Tales ".
"I wrote this project to deal with my own shame and lack of forgiveness around some of the decisions I made in my twenties that weren't supportive," Sullivan said. "But what it ended up being was a safe space for black women to tell their stories – for us to learn from each other, to laugh with each other, and not to be taken advantage of. same time."
In a change of tone, a spoken and video tribute to Foo Fighters drummer Taylor Hawkins, who died March 25, began a slideshow of those in the music industry who died last year. Accompanying music was provided by Ben Platt, Leslie Odom, Jr., Rachel Zegler and Cynthia Erivo, who performed a medley of some of Stephen Sondheim's most notable hits, including "Somewhere" from "West Side Story." , in honor of the musical theater giant. who was one of those the industry lost.
Jon Batiste continued the homage, traversing a metamorphosed decor of minimalist geometric shapes. With Batiste's pizzazz and dynamic costume design, the performance is drawn from both the music video for "FREEDOM" and "The Late Show with Stephen Colbert," where the artist is the conductor. Retro and space elements combined to create a larger-than-life spectacle for the night's biggest Grammys contender, which landed 11 nominations.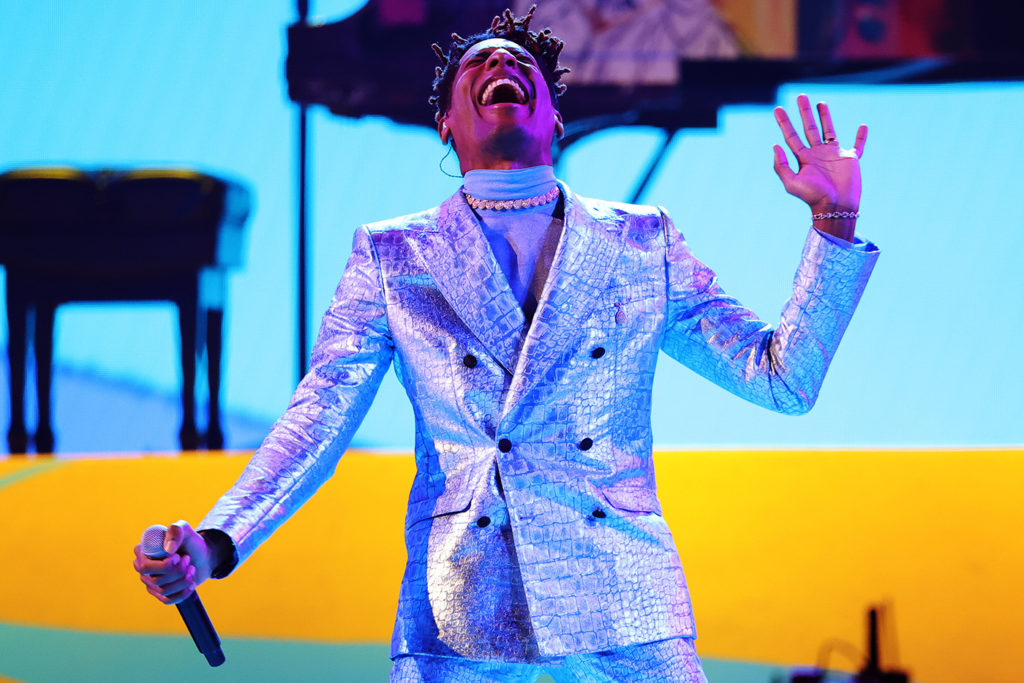 And after an electric guitar-filled performance from HER, Lenny Kravitz and Travis Barker, Keith Urban presented Record of the Year, which included artists from various genres, such as Brandi Carlile, Billie Eilish and ABBA. In the end, it was the Mars and .Paak pairing artist who won the Grammy for "Leave The Door Open," donning complementary velvet suits and keeping their second acceptance speech short for another overall win. of the night.
To close the ceremony, Kravitz returned, raising his heeled ankle boots from silver to cheetah print, to present the final prize: album of the year. Amid a field of nine other contenders — the largest in Grammys history — Batiste picked up his fifth win of the day for "WE ARE," after earlier takes that weren't televised at the main ceremony. In his acceptance speech, the jazz musician reminded the audience of the heart of musical creation by stating that no musician or project can truly be the best, but rather music should be appreciated for its subjectivity.
"I believe that in my heart. There is no better musician, better artist, better dancer, better actor," Batiste said. "It's like a song or an album is done and he almost has a radar to find the person when they need it most."