The Nasher Museum presents "Precarity," a new three-channel video installation created by London-based artist and filmmaker John Akomfrah. "Precarity" works with themes of risk, hybridity and the unfathomable to explore the city of New Orleans through the remarkable life and times of Charles "Buddy" Bolden, the first known person to have explored the sonic tones of the music we now call jazz.
From 1900, Buddy Bolden was New Orleans' most popular musician, playing everywhere from Uptown to Storyville. Famous for his raucous crown, innovative improvisation and vulgar style, "King Bolden" reigned supreme until 1907, when he was permanently committed to the State Insane Asylum in Jackson, Louisiana, suffering from schizophrenia. An almost mythical character, he left no known records and only a few grainy images.
"Precariousness" is therefore as much a ghost story as the portrait of a historical figure. It's also a lyrical exploration of the city that gave birth to jazz, the quintessential art form of the 20th century, a development largely explained by New Orleans' position as a cultural hub. .
Akomfrah also located "Precarity" at a crossroads, or intersection, of genres: namely, cinematic essay, historical documentary, costume drama and music video. In this fertile space, "Precarity" presents a sonographic and visual history of Bolden and its legend, the rise of jazz and the incomparable city of New Orleans. (At left, one of the few known images of Bolden. He is front row, second from left).
Akomfrah is known for its distinctive polyrhythmic visual and sound style. His work crosses cultures to seamlessly merge history with mythology, archives with contemporary and image with sound. Recognized as a pioneer in the world of British cinema, he makes films that challenge dominant narratives and give voice to underrepresented communities.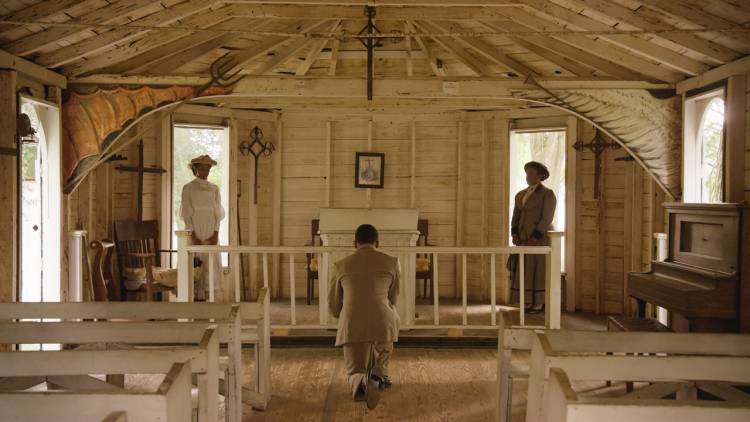 "Precarity" uses New Orleans locations to evoke memories of Bolden as he languished in a sanatorium.
In 1982 Akomfrah co-founded the influential and avant-garde Black Audio Film Collective (BAFC) with Lina Gopaul and several other artists; although the BAFC disbanded in 1988, Akomfrah still collaborates today with Gopaul and their longtime partner David Lawson through their production company Smoking Dogs Films. In 2017 Akomfrah won the UK Artes Mundi award.
"Precarity" is part of the collection of the Nasher Museum.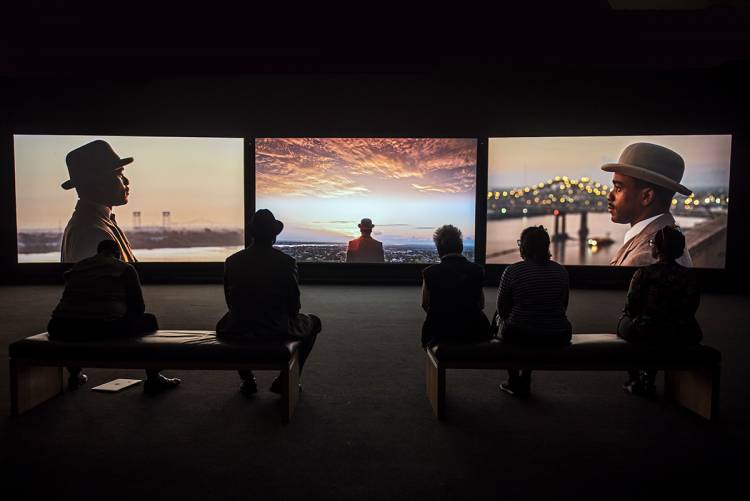 Nasher visitors attend the screening of "Precarity". Photo by J Caldwell
Editor's Note: Trevor Schoonmaker is Chief Curator and Patsy R. and Raymond D. Nasher Curators of Contemporary Art. "Precarity" was originally commissioned for the 2017 New Orleans Triennial, Prospect.4: The Lotus in Spite of the Swamp, curated by Schoonmaker. Its presentation was made possible by Nancy A. Nasher and David J. Haemisegger and the VIA Art Fund, with additional support from the Nasher Museum of Art at Duke University, the New Orleans Jazz & Heritage Foundation, and Smoking Dogs Films .